Camera Critters Meme
Please go and visit for more Camera Critters.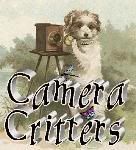 My tunnel is a very good place to rest. I am on my own, but not too far from Mommy. I never like to be too far away from Mommy.
I hope I dream of a magic place, where the bubbles take me to visit all my friends. In my dreams, it would be so fun to play with my friends.
Have any of my friends found the magic dream bubbles yet? Please tell me what they look like. I will keep searching.